Herb Rubbed Turkey
TOTAL TIME: Prep: 10 min. Bake: 4 hours YIELD: 12-14 servings.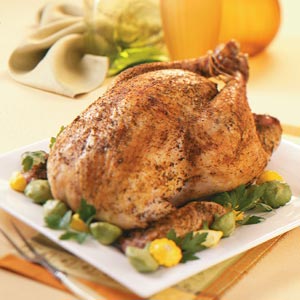 Ingredients
2 tablespoons rubbed sage
1 tablespoon salt
2 teaspoons garlic powder
2 teaspoons celery seed
2 teaspoons dried parsley flakes
2 teaspoons curry powder
2 to 3 teaspoons pepper
1 teaspoon paprika
1/2 teaspoon ground mustard
1/4 teaspoon ground allspice
3 bay leaves
1 turkey (14 to 16 pounds)
Directions
1. In a small bowl, combine the first 10 ingredients. Rub half the seasoning mixture in the cavity of the turkey; add the bay leaves. Rub remaining mixture over the turkey skin.
2. Tie the drumsticks together and place turkey in a roasting pan. Roast using your favorite cooking method until a thermometer inserted in thickest part of thigh reads 170°-175°. Cover turkey and let stand for 15 minutes before slicing.
Recipe Courtesy of Taste of Home
#Thanksgiving #Southbridge #RecipeoftheMonth