Chicago Architecture Center's "Open House Chicago" provides an opportunity to experience some of Bronzeville's hidden gems.
Chicago is the home of incredible architecture. For this reason, people from all over the world travel far and near to enjoy the sights of our beautiful city. The Chicago Architecture Center, a nonprofit cultural organization, provides visitors with a wealth of architectural marvels at their feet to explore during the "Open House Chicago" festival. This is a chance for all to tour various buildings across the city and be provided with facts about these hand selected gems.
One not to miss is The Forum, located at 324 E. 43rd St. in Bronzeville. The festival allows attendees to get up close and personal with this 122-year-old historic red brick building that was once the venue of noted musicians such as Nat King Cole. Get out and revel the structure that possibly houses the oldest hardwood ballroom dance floor in Chicago. The building was said to have been vacant for 40 years but with the help of several organizations, revitalization is on the horizon.
Stop by openhousechicago.org to get details of this highly anticipated festival running October 19-20, 2019.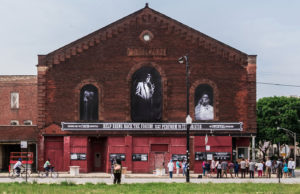 Chicago Football Classic to bring 15,000 students to Soldier Field
Now in its 22nd season the Chicago Football Classic Scholarship Fund, Inc., (CFC) says this year will be the largest attendance to date. This year the goal is to send over 15,000 area students to Soldier Field to watch Historically Black Colleges and University's Ivy League greats. Howard University plays Hampton University on Saturday, September 14, 2019. In addition to being a great event, two NBA powerhouses (Los Angeles Lakers Anthony Davis & Detroit Pistons Derrick Rose) have teamed up to donate 4,000 tickets to students from Chicago's Englewood community. .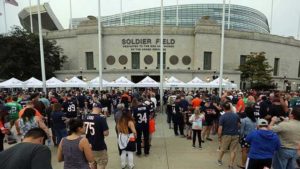 Will The Chicago River be a viable option for swimmers in the future?
Swim in Chicago's rivers…sounds like a dream. If you live in the city or have ventured out to any of the beaches here, you may find it to be a challenge surrounding various factors. So, the idea of swimming in any Chicago river sounds like something that is not in the cards-even for a city as progressive as ours. The Chicago River flows from the north suburbs through the heart of the city and the south, however you are guaranteed not to see swimmers.
'Not so fast' many activists say. They are hoping within the next decade this thought (or idea) may become a reality. Apparently in the 1900's people used to swim marathons that spanned from Chinatown to downtown. Is that an activity of the past or is there some truth that the water quality is good enough to swim today? Thanks to organizations committed to improving water quality, initiatives such as the Clean Water Act and professionals at the Metropolitan Water Reclamation District of Greater Chicago, water is being processed with higher standards. These actions are ongoing and said to improve our chances of taking a dip in the river at minimum during the summer months. Cross your fingers and hope this is the beginning of a larger opportunity for Chicagoans to have clean, healthy and safe H2O.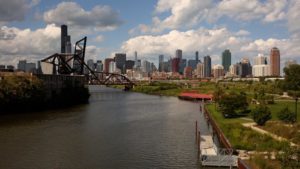 More Publicly Accessible Green Space just south of the Loop
The south end of the Chicago River is proving to be a hidden gem. Once a dumping ground for the city's industrial boom, sites such as Chicago's demolished Grand Central Station, debuts Southbank-a new riverfront park with an amphitheater made of reclaimed limestone. The park is a development in the South Loop that is taking advantage of the Chicago River and adding options to enjoy green space that was once forgotten. As the project grows, so do plans to build a water taxi stop and kayak launch. These exciting offerings not only sound like fun but they are additional transportation options for those south of downtown.